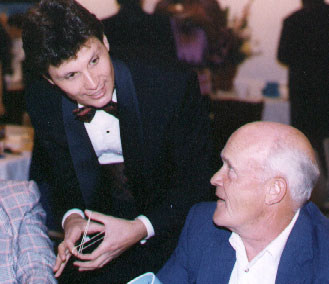 Important Information About Frank Buono, And How He Can Help Make Your Event More Impressive, Fun, and Exciting...
A Proven Track Record...
Frank Buono is a professional magician who has performed hundreds of shows. He has successfully created and presented programs for clients including: AEthna US Healthcare, International Home Foods, Discovery Channel Retail, The Washington Post, Northrop Grumman, and Medaphis Corporation to name a few.
His 10 years of experience and proven track record means that you can rest assured that all of Frank's programs are appropriate, professional, and entertaining.
Why Should You Work With Frank
Buono On Your Next Event?
After performing at a Johns Hopkins University special event, Lisa Laramee, Event Coordinator said, "By all accounts and by the happy, smiling faces, you were terrific!" If that is the kind of result you desire, then Frank Buono can help you achieve it.
---
Contact Your Local Frank Buono Representative Today!
---